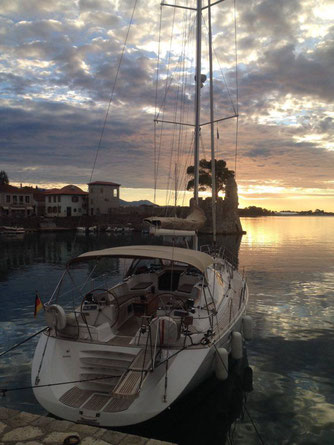 And here I am, my loved ones, once more in Fiskardo port. Nothing reminds you any more of the busy high season here, the dinghies, the masts and the crowds looking for souvenirs, restaurants or another drink. Silence prevails. A few giggles here, some fishes jumping there and some locals saying good bye to each other wishing a nice winter. There is always magic around at this time of the year. A nostalgia, a bittersweet smile and a hope that next season is not far. The last month and a half, we sailed around the Peloponnese, the Saronic gulf, passed the stunning Corinth canal and squeezed ourselves in small picturesque ports like the one in this picture. Speaking of which, you should bother visit Naupaktos city once and this little port. Unexpectedly enough, here you will find a statue of Miguel Cervantes, the famous Spanish writer of Don Kichote. Turns out that he was here to fight for his King and God against the Turks and lost his left arm. So, the locals remember and honour him in their way.
These six weeks included numerous surprises, isolated villages, hidden natural ports, old style greeks who didn't change due to mass tourism and of course, extreme gastronomy tours! Discovering Peloponnese lead as well to lots of hiking. Who could resist to picturesque and full of aromas paths among ruins or live restored (or not) villages whose history exceeds our imagination? The castles of Mistra, Limeni, Monemvasia, Naupaktos and the amazing Oracle of Delfi and Temple of Apollo are only a few to name!
Sailing north today, planning to reach Preveza at some point this week to put "my way" on dry dock for the winter. We have less than two weeks to finish all our pre-winter maintenance jobs and cover her. This is an important stage as we need to spot all possible future failures and make sure they will never occur. Some sealing might probably be necessary as well, some fridges motors annual check, sails off, desalination, engines cleaning off salt water etc etc are some only of the jobs to mention. We will strip her off and give her a farewell kiss on the hull on your behalf as well before we say good bye. She has served us so well under all circumstances that she is rightfully considered a member of our family!
From November onwards, we will be travelling around Europe, visit some expos etc and of course we will be often in our base, Kaiserslautern so , there you are, you all got yourselves an open invitation for a nice beer in Kaiserslautern to meet and catch up!
"My Way" and the crew, we will both need this couple of months off duty to get some rest and plan next season carefully as from May onwards we will be sailing non stop from Greece to Caribbean and offer you the chance to sail in any country in between, any time and at any route without extra charges! The planet awaits, let's enjoy it!
Thank you for this lovely season. We look forward to see you next season too!
P.S. The following small video below, was captured in Paxos island when I was walking around and those guys singing was calling you! Enjoy!