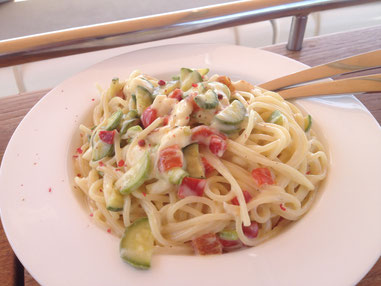 How could it not be when it starts with an isolated bay by George's beach bar and two thankful eyes offering you their own bio zucchini? That's how this lovely summers pasta was created. His father in law, brought them to us along with some more veggies as a form of thank you when we helped him fix his o/b engine. We stayed there for the night and a beautiful big brown happy cow was our morning company when we enjoyed our aromatic Nespresso coffee made with love onboard and served by the beach. We soon had to set sails for south, our next guest would be picked up from Zakinthos and thanks to our "lady" who knows how to perform, we sail downwind fast! When Martin arrived we couldn't resist to some quad rentals which as high season was already on had to be an XT, a 125cc scooter and a 325cc quad.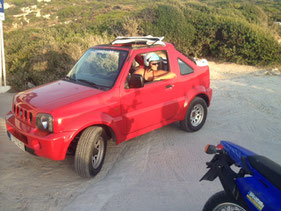 The later broke on the way and waiting for a replacement vehicle, this Suzuki Jimmy appeared.
Lucky me, Martin is 2.03m tall so he didn't fit in and I got the car, and had the chance to enjoy some cool music on the go and to pick up a 93 years old local who was walking the mountains under the tremendous heat! Oh, what a cool opa he was! In a 10 min ride he could give me a few hints on how to deal with life and asked me to drop him off 500m before his village as he should not give up walking 1-2klm per day in total to maintain his good health!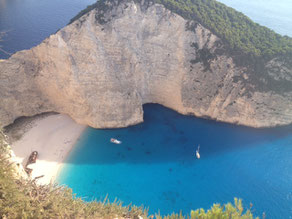 After that, we enjoyed the stunning panorama from the cliffs, down to the famous shipwreck and continued. In the following days we sailed and sailed and picked up the others on our way up to Lefkas.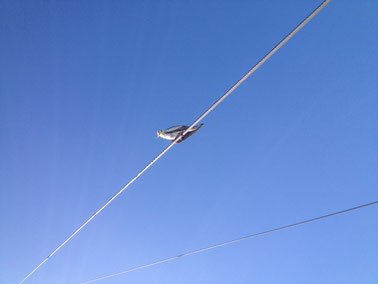 A day off lead to some paragliding (only then you will appreciate why we have dyneema lines onboard 😉 ) and some birds paid us a visit. Take my word for it, if you have to clean their poo off deck, you don't enjoy the view as much LOL. This  small fellow, came in Poros and was really posing to us, I don't know who is missing him/her but definitely felt beautiful to have this bird around!
Some spear gun fishing, a live music concert, a weird cat at Kioni/Ithaca who thought she owned the place and that stepping on the table was normal, the Opera of water in Preveza (a local made it out of coca cola and beer cans!), a pita guros delivery onboard and of course an under water bowthruster replacement for a neighbour boat were the best way to call it a month to remember! Off to August now my friends, I cannot wait for our new adventures and sailing!